آموزش ساخت یك تخم مرغ شكسته درفتوشاب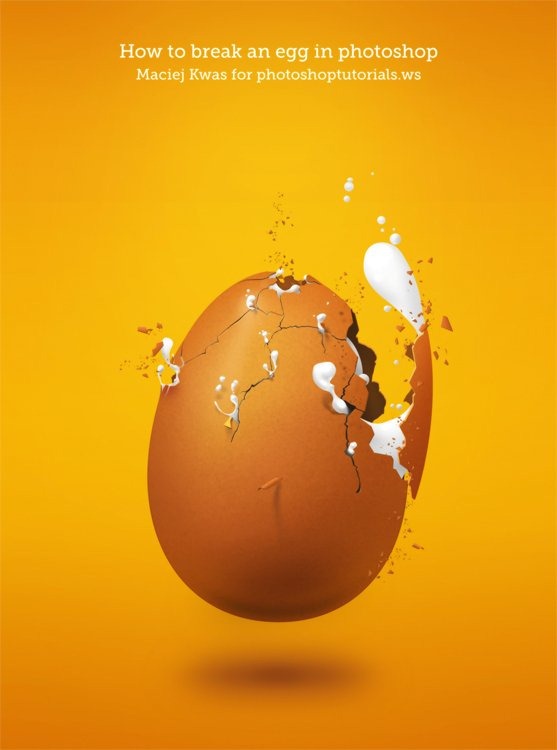 Step 1
Remember to do everything on different layers. It is a way easier to merge things rather than tearing them apart. Create a new document with pretty big measurement. My choice is 1858 x 2500. This is a little trick that is common in digital painting. I mean- we will be scaling our output image down in a final step. You are loosing some texture and details by using this gimmick but generally whole image looks better.
Fill the whole area with some orange color that will be our background. Push [ Shift ] + [ F5 ] to open up a fill window. My color is #ea9b0b. This will give us a warm feel. Now pick the gradient tool, choose [radial gradient] from the option bar, pick some lighter color than our base, let's say # f6b22d, set gradient opacity to about 30% and make one or two gradients in upper part of picture like on the image below.
---
Step 2
Now pick the color #f7e778 and create the selection like below with polygonal marquee tool. Then fill it with a gradient that has options same as before.
---
Step 3
Go to Filter > Blur > Gaussian blur and apply it to our second gradient. Choose some very huge value like 160px. In my case I'm setting the 'soft light' as a layer blending mode and duplicating the layer. Now pick some darker color like # cc6e00 and use it on a corners. Leave settings as they are except gradient type- you can change it to linear gradient. You can also use the gradient once or twice on the bottom and top of the image. Here is how I made it.
And here we get some nice looking warm background. We could leave it as it is, but in my opinion this should be a bit lighter in a middle of an image. I'm leaving it in your choice if you will apply another gradients or not. I'm going to add two additional gradients. I have chose reflected gradient type, a very light color and place them horizontally in a center of image. They are both on different layers. They have blending mode changed to overlay and respectively opacity changed to 90% and 50%. Here is my final background:
Step 4
Now we are making the step into basic shapes. Hold down left mouse button or right click on the rectangle tool and choose Ellipse tool.
When the ellipse tool is picked, hold [ shift ] and create the circle with color #be713d. I have also aligned it horizontally.
Tip: To center your layer horizontally, click on a background layer in layer's window, then hold control and click on a layer you wish to center. Pick move tool and click button shown below that exist on a tool's option panel. You can center your image with grids or selection, but i think it's an easiest way to achieve this.
---
Step 5
Once you have a circle you need to modify it a bit to achieve an egg's shape. To do this, take the Direct selection tool and play with each of the squares of a circle.
It's very important part, so get focus on the shape until you will think that is perfect. Here's my workflow:
And my output:
You can download my shape here if you have problem with your own.
egg-shape.csh | 1 KB
---
Step 6
Right-click in layer's window on our newly created shape and choose Rasterize layer. We are doing so for we will need it as a bitmap rather that vector shape.
Now create a new layer and make clipping mask.
Tip: We are making clipping masks for several reasons. Here we need to avoid ugly edges. To do a clipping mask move the cursor between layers in layer's window. Hold alt, and when cursor will change, left-click.
Further explanation: When you are, for example, creating circle, not all pixels are filled with 100% of your color.
When you want to add some shadow on a new layer, you would probably just select a base layer and put gradient on new one. Wrong- you also have to create a clipping mask. Just see how the edges will looks like after adding some gradient in a selected area of a base layer:
They are pixelized and ugly- now you know why. In next steps up to 20 we will work only on clipping masks.
{end}

نوع مطلب :
برچسب ها :
لینک های مرتبط :